This first edition of "The Indigenous India" covers the issues relating to indigenous peoples of India reported in July 2022. The critical issues covered are: the big question whether the appointment of an indigenous woman as President of India will change the fate of the tribals; legal and policy development; denial of tribal certificates; denial of access to justice; violations of right to land, forest and other resources including grabbing of land for development projects, forced land grabbing by non-tribals, non restoration of land to tribals, forced eviction, denial of fair price for forest produce, development induced displacement; violence against tribals by non-tribals; violence against indigenous women & children; situations of the Particularly Vulnerable Tribal Groups and United Nations' action on indigenous peoples.
Download pdf version of The Indigenous India July 2022
1. The big question: will the appointment of an indigenous woman as President of India change the fate of the tribals?
One of the big questions surrounding the election of President of India has been whether the election of Draupadi Murmu, an indigenous woman, as President of India on 25 July 2022 will change the fate of the indigenous peoples in India.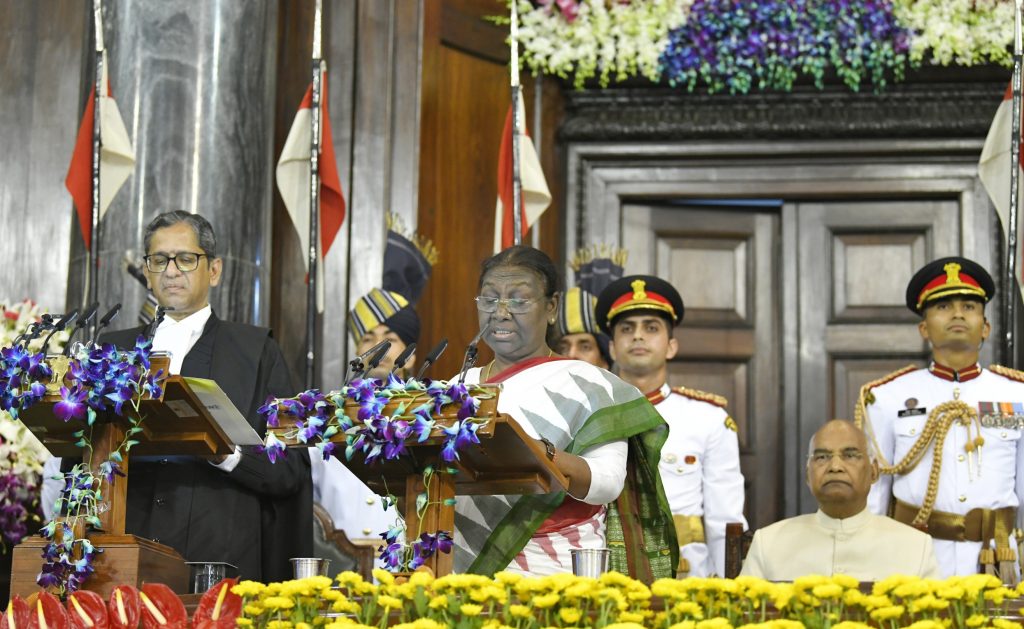 The tribal vote bank politics for her election as the President cannot be missed. In the 2019 general election, BJP did win 31 of the 47 ST reserved seats in the Lok Sabha, four more than in 2014. But it lost power in Jharkhand and Chhattisgarh in 2019. Out of the 29 seats reserved for Scheduled Tribes in the Chhattisgarh Assembly, Congress won 25 of them while in Jharkhand, BJP could win only two of the 28 seats reserved for STs. Apart from these two States, BJP hopes to consolidate support of tribals in Gujarat which faces elections in December 2022 and Rajasthan which faces elections in 2023.
Otherwise, the government of India continues its systematic assault to dilute the laws protecting the rights of the tribals in the country. Barely a week after the Bharatiya Janata Party (BJP) announced her as its candidate for President, on 28 June 2022 the Ministry of Environment, Forests and Climate Change (MoEFCC) notified the Forest (Conservation) Rules, 2022 to do away with the need for obtaining the consent of forest dwellers or even the Gram Sabha of the villages concerned, required earlier before clearing forests for commercial exploitation. On 14 July 2022, the MoEFCC further notified amendment to the Environment Impact Assessment (EIA) Rules, 2006 to provide exemption for highway projects in border areas and several others for thermal power plants that run on biomass, fish handling capacity of ports and harbours, airport terminal expansions, among others.
As the Governor of Jharkhand, Murmu did not give her consent to amend the Chhotanagpur Tenancy Act and the Santhal Pargana Tenancy Act by the BJP government led by Raghuvir Das. It remains to be seen whether President Murmu will show her spine.
2. Legal and policy development
In July 2022, there were significant legal developments to dilute the laws protecting the rights of the tribals.
On 14 July, the Ministry of Environment, Forests and Climate Change (MoEFCC) notified amendment to the Environment Impact Assessment (EIA) Rules, 2006 that introduce exemption for highway projects in border areas and several others for thermal power plants that run on biomass, fish handling capacity of ports and harbours, airport terminal expansions, among others. As per the notification, all highway projects up to 100 km from the Line of Control, the international border with Pakistan, are exempted from obtaining prior environmental clearances, and the agency executing such projects will only have to ensure self-compliance of the standard operating procedures (SOPs) notified by Government of India from time to time.
The amendments essentially means some high altitude stretches of the Char Dham road project in Uttarakhand, other highway projects in the western and eastern Himalayas and several parts of northeast India will be exempted from environmental appraisals. Environmentalists and legal experts raised several concerns with these relaxations to the EIA norms, particularly diluting environmental appraisal for highway projects in border areas. However, officials of MoEFCC said they had not received any major objections to these changes. On 11 April 2022, the MoEFCC issued a draft notification seeking comments.[1]
On 8 July, the Forest Department of Karnataka withdrew an order which directed forest officials to stop issuing notices and carrying out eviction proceedings till the applications under the Forest Rights Act are settled. The said order was issued on 22 April 2022. However, the order was withdrawn following opposition from conservationists and forest officials.[2]
Earlier on 28 June 2022, the MoEFCC notified the Forest Conservation Rules, 2022.[3] The new Rules faced criticism from opposition political parties and activists for allegedly diluting certain provisions on recognising forest rights before granting clearance to a project. It was alleged that the Rules completely undermine and violate the Forest Rights Act (FRA), 2006 by diluting the legal requirements for FRA compliance and seeking consent of gram sabha before diverting forest land. The clause on obtaining gram sabha consent is completely missing from it.[4]
3. Denial of tribal certificates
Tribals continued to be denied community certificates. Non-issuance of ST certificates by the authorities or the lack of ST certificates result in denial of access to government schemes, education, scholarships and jobs, which further leads to denial of socio-economic and political advancement.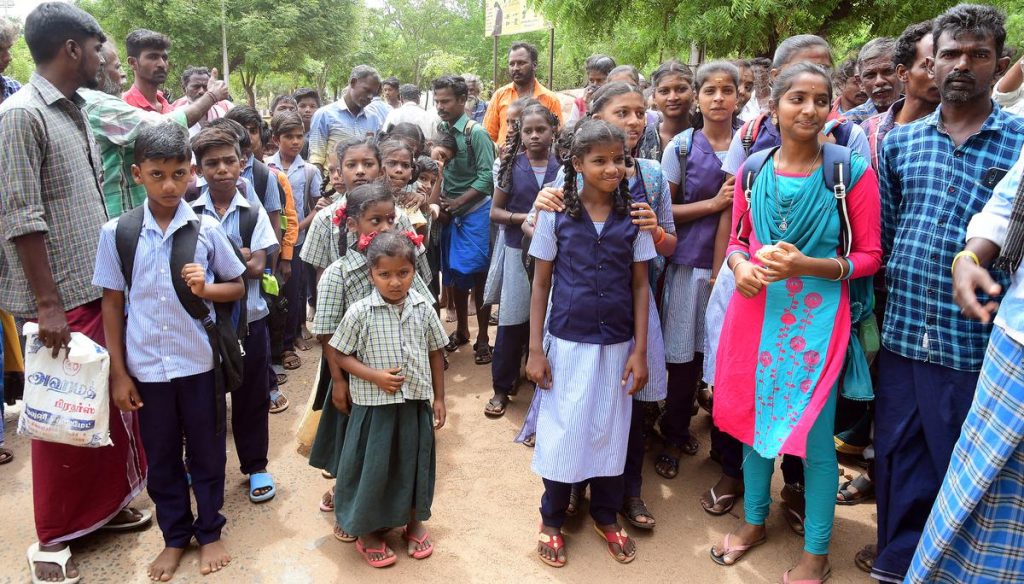 As on 6 July, about 500 tribals belonging to Adhiyan tribe living in Gandhi Nagar area of Nagamangalam in Srirangam Taluk in Tiruchirappalli @ Trichy District of Tamil Nadu were being denied Scheduled Tribe (ST) certificates by the authorities. The Adhiyan community is recognised as ST in Tamil Nadu. They practice Hindu religion. The origin of these Hindu tribals whose forefathers were fortune-tellers is recorded by an anthropological study in 2001. Some of them got their ST certificates in 2001 and 2017. However, the majority of them remained deprived of the ST certificates. As a result, these tribals are denied their rights, protection and entitlements as provided under the Constitution, various laws and welfare/development schemes of the Government of India/State Government. The worst sufferers are the children of this tribal community who are not able to get access to education and reservation benefits including jobs.[5]
In yet another district of Tamil Nadu, tribal students were unable to pursue higher education due to denial of community certificates. Tribal students living at Malaikuravan hamlet in Kuthiraichandal village in Kallakurichi district continued to be denied ST certificates as on 11 July. A number of tribal students had to drop out after passing Class XII examination due to lack of ST status.[6]
There were also delays in issuing the community certificate. In July, the tribals residing in Rayapadu, Peddagaruvu, Ajayapuram, P Kotnaballi of Ravikamatham mandal in Anakapalli district of Andhra Pradesh threatened to protest if the authorities continue to delay in issuing the ST certificates. Due to the delay, about 50 tribal children faced trouble in getting admissions into schools. These tribal children also could not avail ST reservation.[7]
4. Denial of access to justice
Tribals living in conflict areas are arrested and jailed in false cases.
On 17 July, 121 tribals were acquitted by the National Investigation Agency (NIA) court in Dantewada district in Chhattisgarh, five years after their imprisonment for allegedly assisting Maoists in the 2017 attack near Burkapal village in which 26 CRPF personnel were killed. The NIA Court noted that no evidence or statements recorded were sufficient to establish that the arrested tribals, most of them who were in their 20s and 30s at that time, picked up from six remote, forested villages in Sukma district were involved in the crime or were Maoists. In the acquittal order, NIA court special judge observed that the prosecution had failed to prove arms and ammunition were recovered from the accused at the time of arrest or that they were present at the spot when the Maoists ambushed the CRPF team. It was alleged that the police investigation was shoddy, the seven injured CRPF jawans were not made witnesses and without any evidence, these Adivasis were picked up from Burkapal and surrounding villages, many when they were sleeping at home and arrested.[8]
These 121 tribals who lost five years of their lives in prison for a crime they did not commit are also offered no compensation by the government.[9]
On 14 July, the Supreme Court dismissed a writ petition filed by activist Himanshu Kumar and others seeking an independent investigation against Central Security Forces and Chhattisgarh Police for allegedly killing 17 tribals in Dantewada in 2009. The apex court found the allegations raised in the petition false and fabricated. The Court also imposed a fine of Rs 5 lakh on the activist while dismissing the case. Furthermore, the Court allowed the Central government liberty to book the petitioner for conspiracy and forging evidence against the central security forces and state Police. In his petition, Himanshu Kumar had alleged that the security forces killed 17 innocent tribals and tortured many others.[10] The order was criticized by legal experts stating that it could have the effect of deterring people from coming forward to lodge complaints against investigation agencies.[11]
5. Violations of right to land, forest and other resources
There are a plethora of laws prohibiting the sale or transfer of Indigenous peoples' lands to non-indigenous persons and restoring alienated lands to the Indigenous landowners. These laws, however, remain ineffective and seldom invoked to either protect Indigenous lands or restore the alienated lands. Alienation of indigenous peoples' lands through fraudulent means or by force or due to development continues.
5.1 Grabbing of land for development projects
In Assam, hundreds of villages under tribal belts and blocks are proposed to be alienated for city development projects.
On 15 July, the Coordination Committee of Tribal Organizations of Assam (CCTOA), an umbrella organization of tribal bodies in Assam, met State's Tribal Affairs Minister (Plains) Ranoj Pegu and urged him to ensure that certain tribal-inhabited areas are excluded from the plan to expand the State Capital Region till Jagiroad, Palashbari and Tamulpur. The CCTOA said that the Assam State Capital Region Development Authority Act, 2017 should be amended to exclude 378 villages of the Rabha Hasong Autonomous Council, along with 268 villages of the Tiwa Autonomous Council and the tribal belts and block areas, from the purview of the Act. The CCTOA stated that these areas are ancestral lands of the tribal and other indigenous people of the state. The CCTOA also stated that the Assam State Capital Region Development Authority Act, 2017 will dilute the rights of the tribal population living in the capital region expansion project area and the Act violates provisions of Chapter X of the Assam Land and Revenue (Regulation) Act, 1886.[12]
5.2 Forced land grabbing by non-tribals
On 2 July, a tribal woman identified as Rampyari Bai (38 years) belonging to the Saharia tribe, which is recognized as Particularly Vulnerable Tribal Group (PVTG) was burnt alive by six influential persons after she objected to their attempt to grab land at Dhanoria village under Bamori tehsil in Guna district of Madhya Pradesh. According to the victim's husband, the accused were ploughing in their land and when his wife Rampyari Bai objected, they set her ablaze by poursing diesel on her and set her on fire in the field. The land was allotted to them under a Chief Minister's welfare scheme. The victim succumbed to her burn injuries six days later.[13]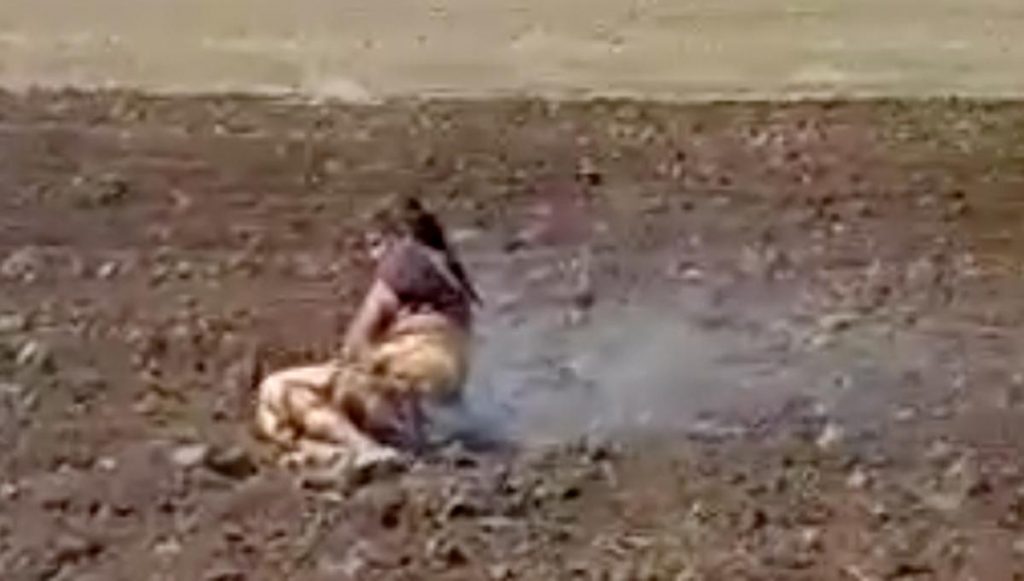 On 19 July, tribals were allegedly beaten by police when they objected to the construction of a boundary around a disputed land at Dobo village in Seraikela-Kharsawan district of Jharkhand. At least 15 tribals live in the two acres land, which was claimed by a local MLA. The tribals alleged that the disputed land in the village is under the Chota Nagpur Tenancy Act and thus cannot be purchased by non-tribal people. At least 25 tribals were detained by the police.[14]
5.3 Non restoration of land to tribals
In July, a PIL was filed by the Adivasi Navanirmana Sena in the Telangana High Court seeking direction to the State Government to protect lands of tribals in Mulug district in Telangana from further encroachments. The Court will hear the case in September 2022.[15] As per the State Tribal Welfare Department's data, a total of 53,022 cases were booked as in October 2021 concerning 2,08,512 acres, of which 52,075 cases covering 2,05,431 acres were disposed of. Of these, the number of cases decided in favour of tribals was 31,279, of which land was physically restored to tribals in 22,706 cases. In other words, as per the official records, only 24,064 acres were to be restored to tribals across the State. However, activists alleged that the situation on the ground is on the contrary.[16]
5.4 Forced eviction, atrocities and deprivation of livelihood
In Telangana, the Forest Department has been carrying out eviction, atrocities and deprivation of livelihood of the tribals. A number of clashes have been reported between the tribals and the Forest Department of Telangana in recent times. Cases were also filed against the tribals for protesting against the eviction drives. There have been sporadic incidents of violence in several parts of the tribal belt, which included the districts of Mancherial, Mahabubabad, Nagarkurnool and Khammam districts over this issue. A number of violent clashes were reported in the past. In order to address the issue, the state government of Telangana had announced giving land title deeds to deserving claimants. However, the process which began in November 2021 was abruptly stopped the following month.[17]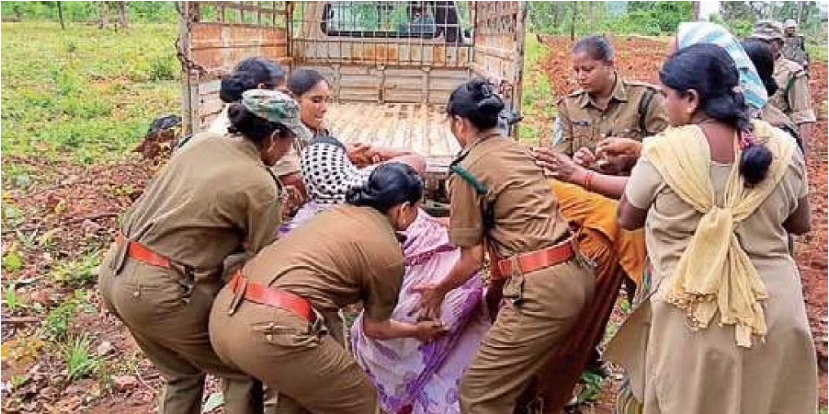 On 5 July, violent conflict between tribal podu farmers and forest officials took place in Penuballi mandal in the Khammam district of Telangana. The podu farmers stopped the forest officials who entered their lands in Chowdavarm village in Penuballi mandal. The tension started when the forest official tried to prevent some poddu farmers from tilling their fields and asked them to vacate the land. Some farmers received injuries following the clashes. The tribal farmers alleged that they have been cultivating the land for many years and that they depend on the lands for their survival and running their families from the food grains they produce on the podu fields.[18]
On 7 July, the Forest Department personnel forcibly evicted Adivasis farmers from the disputed forest land, which the Adivasis claim to be Podu land, a form of shift cultivation in the forest, at Koyaposhagudem in Mancherial district of Telangana. The tribal farmers resisted and were dragged and detained by the forest personnel leading to chaos and panic. One person doused himself with petrol and threatened to set himself on fire. Videos of the incident show the forest personnel forcibly evicting women[19] and being manhandled by police when they were protesting during a protest. The women were brutally dragged and pulled by the police.[20]
On 8 July, five tribal women were arrested following clashes between tribals and forest officials at Koipochigudem in Dhandapelli mandal of Mancherial district, Telangana.[21]
Tribal farmers were not provided with relief and rehabilitation after their eviction. In Karnataka, the State Government promised to provide rehabilitation to tribals of Nagarahole, Bandipur and other forests to leave the forests. But after they were evicted, no relief was provided to the displaced tribals as on 9 July.[22]
5.5 Denial of fair price for forest produce
Minor Forest Produce (MFP) is an important source of livelihoods for tribal people. The Government procures MFP through the Minimum Support Price (MSP) for MFP. MSP is the rate at which the government buys produce from tribals. However, tribals alleged that they were not getting fair price for their MFP.
In July, the tribals of Dotometa in Kanker district, Chhattisgarh alleged that they have been exploited in the name of collection of forest produce, especially tendu leaves, and they have decided to sell the leaves in open markets and not to the government. The Chhattisgarh government has fixed the price of a standard bag of tendu leaves at Rs 4,000 per bag. However, the collectors say that the price of one sack is getting more than Rs 8,000 in the open market. The leaves of tendu (Diospyros melanoxylon) are used for making bidis (thin cigarettes).[23]
5.6 Development induced displacement
On 22 July, thousands of tribals protested in front of the Birbhum District Magistrate's office in Siuri in West Bengal demanding the cancellation of the Open-pit coal mining project proposed by the state government in Deucha-Pachami. The tribals of 36 villages from Deucha-Pachami area have been protesting for the last eight months demanding the cancellation of the coal mine project. The Deucha-Pachami-Dewanganj-Harinsinga coal block is the second largest coal block in the world and the largest in India. As per estimates, around 20,000 people will be displaced due to the project.[24]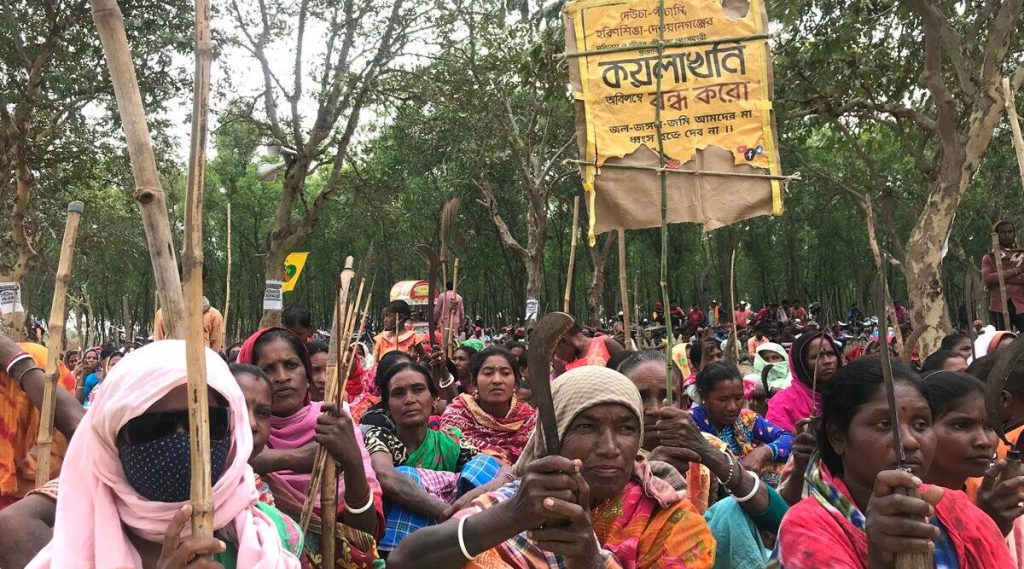 On 27 July, the National Human Rights Commission (NHRC) had sought an action taken report from the State Government of Odisha regarding denial of compensation to displaced persons due to land acquisition for Rourkela Steel Plant, Mandira Dam, Rukuda Dam and railway works in Sundargarh district. Land was acquired from 32 villages in and around Rourkela during establishment of Rourkela Steel Plant (RSP) during 1955-1959. At the time of acquisition of land, some landowners were paid compensation while others did not receive the same and their compensation had been deposited in government treasury. The displaced persons were granted lease pattas in lieu of the acquired land. However, some of the beneficiaries are yet to get possession of the land.[25]
6. Violence against tribals by non-tribals
Violence against the tribals by non-tribals continued. Some of the cases documented during July 2022 are given below:
On 11 July, Vinod, a tenth standard tribal student staying at the pre-metric hostel at Vettilappara near Athirappilly in Kerala, was tortured by the watchman with a bamboo stick, resulting in injuries. The watchman had reportedly beaten up the student for thumping on the bench. A case was filed registered by police under various provisions of the law including Juvenile Justice Act and SC/ST Atrocities Act.[26]
On 9 July, a 21-year-old tribal student was tortured by four persons identified as Nazim Khan (35), Aadil Khan (22), Saddam Patel (35) and Salman Patel (27) near Tejaji Nagar area under Tejaji Nagar police station in Indore district of Madhya Pradesh. The victim, a student, was living on rent along with his two sisters in the house of one of the accused, Nazim Khan. The landlord Nazim Khan allegedly suspects that the tribal youth had extorted Rs 50,000 from his son and bought a laptop. The landlord allegedly took the victim on the pretext of buying a goat but confined him to a house, where the three other accused were present. The victim was stripped, beaten mercilessly and attempted to murder him by inserting petrol in his private parts. The entire incident was filmed by the accused. The victim suffered serious injuries and presently under treatment at a hospital.[27]
7. Violence against indigenous women & children
The indigenous women and girls in India are deprived of many of their rights. Both collective and individual rights are violated in private and public spaces. Sexual violence, trafficking, killing/branding as a witch, militarisation or state violence and the impact of development-induced displacement, etc. remained major issues.
On 13 July, the Odisha government ordered a Crime Branch inquiry into the alleged police atrocities on tribal women in Malkangiri district. On 7 June 2022, a Sub-Divisional Police Officer (SDPO) and his team beaten up people including a pregnant woman, a minor girl and an 80-year-old woman during a night-time raid at RSC-13 village when the police team had gone in connection with illegal ganja cultivation. The victims suffered injuries and were hospitalised.[28]
Some of the cases documented during July 2022 included torture and parading of a 30-year-old tribal woman garlanded with footwear and forcing her to walk carrying her husband on her shoulders by a mob on the suspicion of having extra-marital affair at Borpadav village in Dewas district of Madhya Pradesh on 3 July;[29] a 12-year-old tribal girl who was abducted and raped by two men when she was returning home from school in Godda district, Jharkhand on 6 July;[30] a 14-year-old tribal who was raped and murdered by nine persons at Goudapada village in Phulbani district of Odisha on 10 July;[31] a minor tribal girl belonging to Reang tribe who was raped by Abul Hussain and Salamuddin when she went to collect vegetables from a hilly area in her village under Ramnathpur police station in Hailakandi district of Assam on 15 July;[32] and a 17-year-old tribal girl who jumped from the roof a school building to escape gang rape attempt by five persons at Jhumapada village under Kalinganagar police station in Jajpur district, Odisha on 17 July.[33]
Witch-hunting remains one of the most common forms of violence against indigenous women. Some of the cased documented in July 2022 included killing of a 45-year-old tribal woman in West Singhbhum district in Jharkhand on 3 July;[34] a 70-year-old woman who was beaten to death by five persons at Khuri village under Chiniyan police station in Garhwa district, Jharkhand on 3 July;[35] a 70-year-old tribal woman identified as Gangi Jamuda who was beaten to death by a person in Mayurbhanj district in Odisha on 16 July;[36] a 56-year-old Adivasi widow who was beaten to death by her own family members at a remote village under BTAD in Assam on 24 July;[37] and 35-year-old Seema Devi who was killed by one Baso Devi in Jamun Toli area under Namkum police station of Ranchi district, Jharkhand on 24 July.[38]
Tribal women and girls have also been victims of human trafficking. On 18 July, ten tribal women and girls, including six minors were rescued by Delhi Police from the premises of an illegal placement agency in Delhi. The victims, residents of Jharkhand, were kept in inhuman conditions. They were trafficked from West Singhbhum district, Jharkhand on the promise of gainful employment.[39]
Menstruating tribal girls faced social exclusion. On 26 July, the tribal girl students who were in their menstrual cycle were prevented from planting saplings in a function by their teachers at Devgaon Tribal School in Trimbekeshwar in Nasik district of Maharashtra. These students were told that if the menstruating girls plant the saplings, they would not grow and survive.[40]
8. Situations of the Particularly Vulnerable Tribal Groups
There continued to be inequalities in health, education and employment in the tribal areas in the country. However, the situation of the most vulnerable among the tribals i.e. the Particularly Vulnerable Tribal Groups (PVTGs) of the country remained dismal. There are 75 communities in 18 States and Union Territory of Andaman & Nicobar Islands who have been identified as PVTGs by the Government of India. Despite specific socio-economic schemes in place for the upliftment of the PVTGs, the schemes are not implemented in letter and spirit.
The governments remained apathetic. For instance, a 40-member team of government officials in Kerala visited a PVTG village in Cheemalapadu panchayat in Narsipatnam division of Anakapalle district to study the sub-human conditions in which they were living in July only after the intervention of the National Human Rights Commission (NHRC). The NHRC had sought a status report from the Tribal Welfare Department, Kerala on facilities in the PVTG village inhabited by about 50 tribals. The tribals including the children have no Aadhaar cards due to lack of birth certificates and no voter cards. The village also did not have electricity and potable water supply. They were promised voter cards but the same was not materialized as of now. Besides, they have no access to tribal welfare schemes including under the FRA.[41]
The PVTGs are also more prone to ill-health conditions and diseases. In July, the Integrated Tribal Development Agency (ITDA) of Andhra Pradesh ordered an enquiry following report of illegal sterilization surgeries conducted without following proper procedures on about 600 tribal men and women including members of PVTGs from Alluri Sitharamaraju district in Andhra Pradesh. The surgeries were conducted in private hospitals in Visakhapatnam in June 2022. The tribals were taken in buses to a private hospital in Visakhapatnam by representatives for family-planning surgery. The hospital representatives had allegedly promised them Rs 5,000 each, free transport, food and stay. They were taken to a distant place despite availability of such facilities for family planning procedure in the Agency area itself.[42]
9. United Nations' action on indigenous peoples
On 18 July, Francisco Cali Tzay, UN Special Rapporteur on the rights of indigenous peoples hailed a decision by the African Court on Human and People's Rights to award reparations to the Ogiek indigenous peoples for harms suffered from injustices and discrimination. The historic ruling on reparations follows a landmark judgment delivered by the Court on 26 May 2017, finding that the Government of Kenya had violated the right to life, property, natural resources, development, religion and culture of the Ogiek, under the African Charter on Human and Peoples' Rights. The Court ordered the Government of Kenya to pay compensation of KES 57,850,000 (Kenya Shillings) for material prejudice for loss of property and natural resources, and KES 100,000,000 for moral prejudice suffered by Ogiek due to violations of the right to non-discrimination, religion, culture and development. The Special Rapporteur provided expert testimony to the Court in the landmark case, based on the mandate's long-standing engagement in the promotion and protection of the rights of the Ogiek indigenous peoples.[43] On 4-8 July, the UN Expert Mechanism on the Rights of Indigenous Peoples (EMRIP) held its 15th session after a two-year hiatus from physical meetings. The session was held in a hybrid format i.e. the participation ranged from in-person to virtual from remote places as countries variously adjusted and eased COVID-19 travel restrictions. Indigenous peoples have been recognized as agents of change and solution holders in matters such as climate change mitigation, education, and land stewardship.[44]
---
[1]. Relaxation for environmental clearances for highway projects sparks debate, Hindustan Times, 18 July 2022, https://www.hindustantimes.com/india-news/relaxation-for-environmental-clearances-for-highway-projects-sparks-debate-101658142896170.html
[2]. Karnataka withdraws order stopping forest officials from issuing eviction notices, The Indian Express, 25 July 2022, https://indianexpress.com/article/cities/bangalore/karnataka-withdraws-order-stopping-forest-officials-from-issuing-eviction-notices-8050476/
[3]. The Forest Conservation Rules, 2022 is available at https://parivesh.nic.in/writereaddata/FCRule2022Notificationdated28062022.pdf
[4]. lause for gram sabha consent missing in Forest Conservation Rules 2022: Critics, Hindustan Times, 13 July 2022, https://www.hindustantimes.com/india-news/clause-for-gram-sabha-consent-missing-in-forest-conservation-rules-2022-critics-101657724333814.html
[5]. Tamil Nadu: Delay in ST status kills college dreams of children of Adhiyan community, The New Indian Express, 6 July 2022, https://www.newindianexpress.com/states/tamil-nadu/2022/jul/06/tamil-nadu-delay-in-st-status-kills-college-dreams-of-children-ofadhiyan-community-2473409.html
[6]. Certificates denied, college dream eludes ST students of Tamil Nadu's Malaikuravan hamlet, The New Indian Express, 11 July 2022, https://www.newindianexpress.com/states/tamil-nadu/2022/jul/11/certificates-denied-college-dream-eludes-st-students-of-tamil-nadusmalaikuravan-hamlet-2475178.html
[7]. Woes of tribal children in getting caste certificates , The Hans Indian, 10 July 2022, https://www.thehansindia.com/andhra-pradesh/woes-of-tribal-children-in-getting-caste-certificates-752834
[8]. 121 tribals arrested for 2017 Red attack that killed 26 CRPF men acquitted, The Times of India, 18 July 2022, https://timesofindia.indiatimes.com/india/121-tribals-arrested-for-2017-red-attack-that-killed-26-crpf-men-acquitted/articleshowprint/92941714.cms
[9]. Chhattisgarh: Maoists get surrender package, but no compensation for 121 wrongly jailed tribals, The Times of India, 20 July 2022, https://timesofindia.indiatimes.com/city/raipur/chhattisgarh-maoists-get-surrender-package-but-no-compensation-for-121-wrongly-jailed-tribals/articleshow/92993708.cms
[10]. 'False allegations to shield Naxals': SC dismisses 2009 case that accused security forces of killing tribals in Chhattisgarh, imposes Rs 5 lakh fine on petitioner, 14 July 2022, https://www.opindia.com/2022/07/sc-dismisses-petition-2009-investigation-alleged-killings-tribals-chhattisgarh-fines-rs-5-lakh-fine-petitioner-urban-naxal/
[11]. As SC Imposes Fine on Chhattisgarh Activist, Legal Experts Rue 'Vengeful Attitude', The Wire, 19 July 2022, https://thewire.in/law/supreme-court-chhattisgarh-tribals-killing-himanshu-kumar-fine-vengeful-attitude
[12]. Expand capital region without violating tribals' rights: CCTOA, The Sentinel, 17 July 2022, https://www.sentinelassam.com/topheadlines/expand-capital-region-without-violating-tribals-rights-cctoa-602945
[13]. Madhya Pradesh: Tribal woman set on fire over land dispute dies, The Times of India, 8 July 2022, https://timesofindia.indiatimes.com/city/bhopal/madhya-pradesh-tribal-woman-set-on-fire-over-land-dispute-dies/articleshow/92752499.cms
[14]. How a Jharkhand MLA's Claim Over 2 Acres of Land Led to a Nightmare for Tribal Villagers, The Wire 24 July 2022, https://thewire.in/rights/jharkhand-tribal-land-sabita-mahato
[15]. Tribal lands encroachment in Mulug district: Telangana High Court moots amendment plea, The Hans India, 29 July 2022, https://www.thehansindia.com/telangana/tribal-lands-encroachment-in-mulug-district-telangana-high-court-moots-amendment-plea-755509
[16]. Tribals of Telangana's Mulugu district losing ancestral land to encroachers, The New Indian Express, 18 October 2021, https://www.newindianexpress.com/states/telangana/2021/oct/18/tribals-of-telanganasmulugu-district-losing-ancestral-land-to-encroachers-2372627.html
[17]. Podu land controversy: Telangana Adivasis call for bandh on July 11, The News Minute, 8 July 2022, https://www.thenewsminute.com/article/podu-land-controversy-telangana-adivasis-call-bandh-july-11-165671
[18]. Tribal farmers clash with forest officials, The Hans India, 6 July 2022, https://www.thehansindia.com/telangana/tribal-farmers-clash-with-forest-officials-752114?infinitescroll=1
[19]. Podu land controversy: Telangana Adivasis call for bandh on July 11, The News Minute, 8 July 2022, https://www.thenewsminute.com/article/podu-land-controversy-telangana-adivasis-call-bandh-july-11-165671
[20]. NCW seeks action against cops manhandling protesting tribal women farmers in Telangana, The Times of India, 12 July 2022, https://timesofindia.indiatimes.com/india/ncw-seeks-action-against-cops-manhandling-protesting-tribal-women-farmers-in-telangana/articleshowprint/92835295.cms
[21]. Adilabad: Tribals clash with officials over razing of huts, five held, The New Indian Express, 9 July 2022, https://www.newindianexpress.com/states/telangana/2022/jul/09/adilabad-tribals-clash-with-officials-over-razing-of-huts-five-held-2474517.html
[22]. Tribal Farmers Demand Announcement of Relief, The Star Mysore, 12 July 2022, https://starofmysore.com/tribal-farmers-demand-announcement-of-relief-package/
[23]. FOREST RIGHTS – Unhappy with government prices, Adivasis in Chhattisgarh take their tendu leaves to the open market, The Scroll, 3 July 2022, https://scroll.in/article/1026707/unhappy-with-government-prices-adivasis-in-chhattisgarh-take-their-tendu-leaves-to-the-open-market
[24]. Bengal: Thousands of Tribals Protest Against Open-pit Coal Mining Project in Deucha Panchami, The NewsClick, 27 July 2022, https://www.newsclick.in/Bengal-Thousands-Tribals-Protest-Against-Open-pit-Coal-Mining-Project-Deucha-Panchami
[25]. NHRC seeks report on displacement, The Times of India, 30 July 2022, https://timesofindia.indiatimes.com/city/bhubaneswar/nhrc-seeks-report-on-displacement/articleshowprint/93222275.cms
[26]. Tribal student beaten up by hostel watchman, The Times of India, 12 July 2022, https://timesofindia.indiatimes.com/city/kochi/tribal-student-beaten-up-by-hostel-watchman/articleshowprint/92816381.cms
[27]. MP: Four men beat 21-year-old tribal youth, insert petrol in his private parts and shoot nude video; arrested, The Times Now News, 11 July 2022, https://www.timesnownews.com/mirror-now/crime/mp-four-men-beat-21-year-old-tribal-youth-insert-petrol-in-his-private-parts-and-shoot-nude-video-arrested-article-92810592
[28]. Odisha: Probe into police atrocities ordered following uproar in House, The Print, 13 July 2022, https://theprint.in/india/odisha-probe-into-police-atrocities-ordered-following-uproar-in-house/1037553/
[29]. Woman brutally tortured, publicly humiliated in Dewas, The Hindu, 4 July 2022, https://www.thehindu.com/news/national/woman-brutally-tortured-publicly-humiliated-in-dewas/article65599633.ece
[30]. Minor abducted, gang-raped in Godda district, The Times of India, 9 July 2022, https://timesofindia.indiatimes.com/city/ranchi/minor-abducted-gang-raped-in-godda-district/articleshowprint/92760425.cms
[31]. Nine held for gang rape and murder in Odisha's Goudapada village, The New Indian Express, 25 July 2022, https://www.newindianexpress.com/states/odisha/2022/jul/25/nine-held-for-gang-rapeand-murder-in-odishasgoudapada-village-2480416.html
[32]. Assam: Minor tribal girl raped in Hailakandi; manhunt launched , The East Mojo, 20 July 2022, https://www.eastmojo.com/assam/2022/07/20/assam-minor-tribal-girl-raped-in-hailakandi-manhunt-launched/
[33]. 5 detained for rape bid on tribal girl, The Daily Pioneer, 19 July 2022, https://www.dailypioneer.com/2022/state-editions/5-detained–for-rape-bid-on-tribal-girl.html
[34]. Jharkhand: 45-year-old tribal woman killed on suspicion of witchcraft in West Singhbhum district, The First Post, 6 July 2022, https://www.firstpost.com/india/jharkhand-45-year-old-tribal-woman-killed-on-suspicion-of-witchcraft-in-west-singhbhum-district-10878121.html
[35]. Jharkhand: 70-year-old woman beaten to death over 'witchcraft', The Indian Express, 5 July 2022, https://indianexpress.com/article/cities/delhi/jharkhand-woman-beaten-to-death-witchcraft-8009347/
[36]. Elderly Tribal Woman Hacked To Death Over Witchcraft Suspicion, The Outlook
17 July 2022, https://www.outlookindia.com/national/elderly-tribal-woman-hacked-to-death-over-witchcraft-suspicion-news-209842
[37]. Assam: Widow Thrashed To Death Over Suspicions Of Practising Witchcraft, The Sentinel, 24 July 2022, https://www.sentinelassam.com/north-east-india-news/assam-news/assam-widow-thrashed-to-death-over-suspicions-of-practising-witchcraft-604190
[38]. 35-yr-old killed over witchcraft charges in Ranchi, The Times of India, 24 July 2022, https://timesofindia.indiatimes.com/city/ranchi/35-yr-old-killed-over-witchcraft-charges/articleshowprint/93081392.cms
[39]. Delhi Police arrest 3 for 'trafficking tribal women in guise of placement agency', 10 rescued, The Print, 21 July 2022, https://theprint.in/india/delhi-police-arrest-3-for-trafficking-tribal-women-in-guise-of-placement-agency-10-rescued/1049084/
[40]. Menstruating tribal girls prevented from planting saplings in Maharashtra, The New Indian Express, 27 July 2022, https://www.newindianexpress.com/nation/2022/jul/27/menstruating-tribal-girls-prevented-from-planting-saplings-in-maharashtra-2480975.html
[41]. NHRC directive prods AP officials to visit hamlet with 50 tribals, The New Indian Express, 29 July 2022, https://www.newindianexpress.com/states/andhra-pradesh/2022/jul/29/nhrc-directive-prods-ap-officials-to-visit-hamlet-with-50-tribals-2481839.html
[42]. Burden to bear: In shadow of old state policies, vulnerable tribal groups demand tright to opt for family planning, The Down To Earth, 19 July 2022, https://www.downtoearth.org.in/news/health/burden-to-bear-in-shadow-of-old-state-policies-vulnerable-tribal-groups-demand-tright-to-opt-for-family-planning-83798
[43]. Kenya: UN expert hails historic ruling awarding reparations to Ogiek indigenous peoples
18 July 2022, See https://www.ohchr.org/en/press-releases/2022/07/kenya-un-expert-hails-historic-ruling-awarding-reparations-ogiek-indigenous
[44]. UN Expert Mechanism on the Rights of Indigenous Peoples Resumes In-person Session, Cultural Survival, 18 July 2022, https://www.culturalsurvival.org/news/un-expert-mechanism-rights-indigenous-peoples-resumes-person-session